How to open « Ça reste ouvert » in your own country
18 avril 2020, 11 h 01 min Europe/Paris
« Ça reste ouvert » (literally « it remains open » in French) is the essential tool to inform confined citizens of places still open during the lockdown.
By avoiding useless trips, it helps limit the risk of contagion of Covid-19.
This collaborative map also allows anyone to contribute by updating information directly in OpenStreetMap.
If you are an OpenStreetMap contributor with ease with IT and you feel like you need this service in your country, this step-by-step guide is for you.
We already opened several countries, please check the detailed article for more details.

In short, you need to:
pick a name
gather a local OSM team together
translate and adapt the tool
finish to read this article
introduce yourself by sending us an email
How to open the service in your own country
You don't need to host any service on your own, because we want you to focus on the most useful task: create data in your country.
We provide the service all-included, thanks to our technical partners that provide the infrastructure free of charge: OpenStreetMap France non-profit association helps us to work out the service, Jawg Maps provides search API, Scalingo is hosting, Map Tiler provides vectorial map tiles, TransWay is developing mobile apps.
Therefore you just need to fulfill the following process:
Pick a name
First, you need a good name that sounds good in your own language. « Ça reste ouvert » literally means « it remains open » or « it stays open » so we suggest you find a close name.
Pick a tagline
Because the mobile website is too small to display the entire name + subtitle, you need a shorter tagline that makes sense in your language.
The tagline « Ça reste ouvert durant le confinement » (literally « it remains open during the lockdown ») makes sense in French. You need to pick a good name with an associated tagline that is also working in your language.

Provide us with the wording, we'll design this logo for you.
Book a URL
Even if the service remains fully available in your own language on caresteouvert.fr website, you could create a specific URL if you want, as an optional step.
Here are the already existing ones: caresteouvert.fr is for France, bleibtoffen.de for Germany,
All URLs always display the same service. You just need to create a redirection to www.caresteouvert.fr. No extra configuration is needed. User's browser setting automatically switches the displayed language.
Gather a team together
You need a team of at least 2 people experienced with OpenStreetMap to start this project.
Get ready to manage some notes
In OpenStreetMap, in addition with the main database, notes can be created.

During the early days of « Ça reste ouvert », the service created thousands of notes via the contribute form. We have since worked hard to make automated edits, with a more advanced form:
Even if this form is more and more detailed, some notes are still created.
It happens when a user fills the free text form to give extra details. For example, it could be « This place is only open to officials. »
This specific case isn't available in the form, so your local OpenStreetMap community needs to keep up with theses. Please note that this specific behavior of the form might evolve in the future.
Except this, you can expect thousands of contributions quickly and improve massively the coverage of shops in your country in OSM, so this is pretty cool!
Translate the website and the doc
You now need to translate the website:
Collect data
« Ça reste ouvert » combines data from OpenStreetMap and custom rules.
Here is a snapshot of the infrastructure: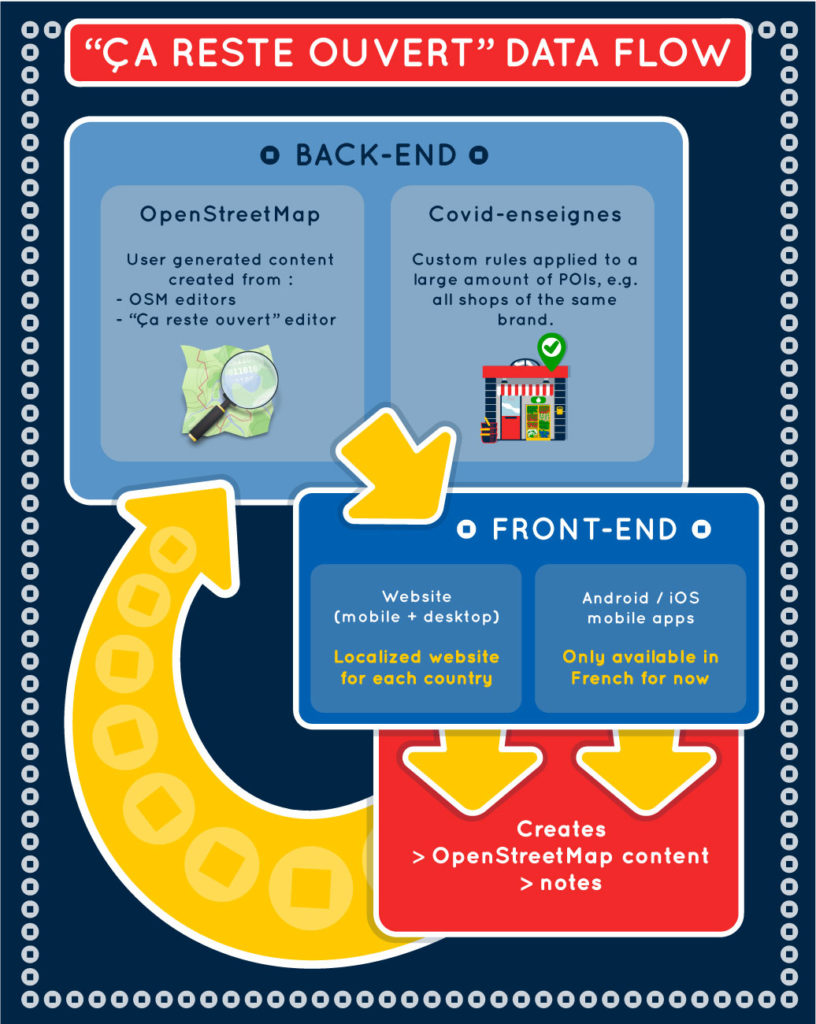 OSM data
The first source of data is OpenStreetMap.
You can tag an OSM object with opening_hours:covid19 and some other complementary tags: description:covid19, note:covid19, access:covid19, delivery:covid19, takeaway:covid19, drive_through:covid19. Our simplified form do create data using these tags directly.
« Ça reste ouvert » will display all the POI with these tags, even if the are not part in the short-list.
Please check out the detailed documentation. The list of tags is quickly expanding. Your feedback is most certainly welcome to help.
Covid-Enseignes
Custom rules could be applied to a large amount of POIs of a single brand with « Covid-Enseignes »: https://github.com/PanierAvide/Covid_enseignes/
An example of a specific rule can be: « all point-of-sales of « Carrefour » brand in France (unique id in WikiData=Q217599) remain open during lockdown. New opening_hours are from monday to friday from 8:00 to 19:00. »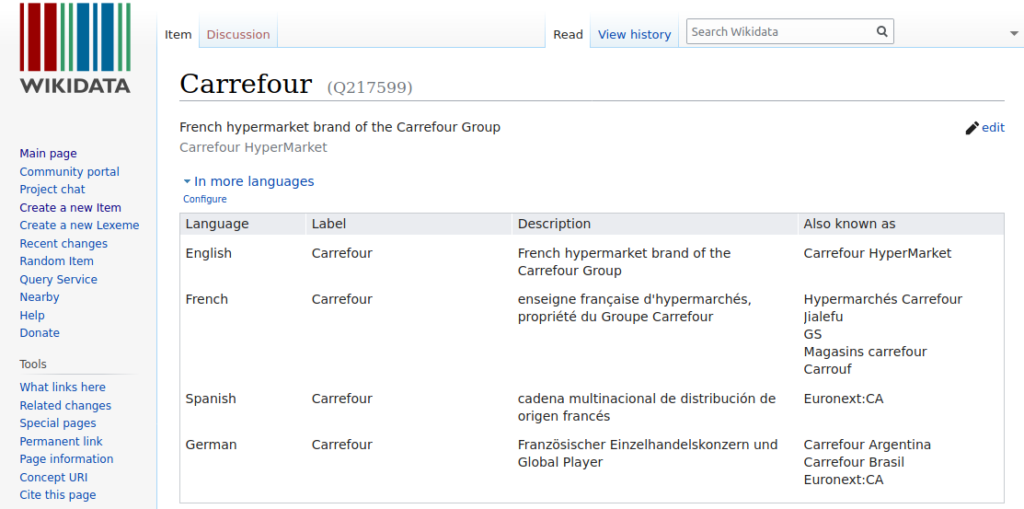 You can see that a Wikidata key is used as a permanent id. We launched a specific project in France to improve brand:wikidata contribution in OSM (see this article, only in french). We suggest you do the same in your own country, but it's not a blocking issue. Covid-Enseignes collect OSM data based on similar name and brand, cf. technical documentation. So you might just want to standardize data of these 2 tags.
In France, on 16th April, 10% only of all the displayed POIs have been crowdsourced (mostly from caresteouvert.fr website).
But on the map 35% of the POIs display a green or red color.
The 25% difference comes from Covid-Enseignes. This is a massive amount of data, so you should seriously consider using Covid-Enseignes as much as possible.
| | | | | |
| --- | --- | --- | --- | --- |
| day | country | All displayed POI (including grey ones) | POI from OSM (green and red ones) | POI from Covid-Enseignes (green and red) |
| 2020-04-16 | FR | 294 901 | 31 314 | 71 309 |
Check out all the detailed stats for already open countries at https://download.osmontrouge.fr/caresteouvert
Start gathering data about open or closed shops in your country. You can start from now!
Setup the interface
Not all POIs are displayed because during lockdown a lot of them are forbidden to open. E.g. in France, all schools are closed but wine shop remain (obviously!) open. As the categories of places changes a lot from one country to another, you can setup this precisely in the categories.json file.
Communication is key
For the success of your project, communication is as important as the technical and community parts. You need to pay as much attention to it as the previous steps. Unfortunately no detailed guide could be provide for you to succeed it.
We suggest to follow French team example.
In France we setup an intensive communication campaign dedicated to press from the very beginning of the project. Many articles mention « Ça reste ouvert »: have a look at the dozens of articles on the french press page. So far, we achieved some interviews, including for radio. We published a very detailed press kit, several press releases.
This part is key. If you want the OSM data to be created, you have to involve people from outside the OSM community. This is the primary goal of « Ça reste ouvert »: the website doesn't require advanced knowledge, not even to create an OSM account to contribute.
This tool will help you to manage the Covid-19 crisis but it could also be a tool to empower the community, to create more local businesses POIs in OSM.
Make a request & talk to us
Now that you achieved the whole process it's time to make a request to our team to open your country.
We suggest to introduce yourself and your local community by sending us an email as soon as possible. That's nice to help you but it's even better if we can be introduced 🙂

Our project is very young: we are permanently testing new ideas to make the UX better and allow the OSM local communities get the most of the tool.
Your feedback and direct contribution is warmly welcome. Feel free to have a look at the current issues https://github.com/osmontrouge/caresteouvert/issues and create one if needed.
We hope that « Ça reste ouvert » will be useful to you and you community.